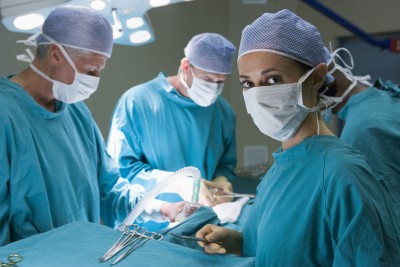 Surgical tech schools provide the training necessary to become a surgical technologist in as little as 12 months. Becoming a technologist (alternatively referred to as a scrub technician) requires an individual to first earn either an associate's degree or a surgical tech certification, and to subsequently pass a standardized exam administered by either the National Center for Competency Testing or the National Board of Surgical Technology and Surgical Assisting. With the number of new surgical technologist jobs expected to grow by 19% by 2020 (per the latest www.bls.gov estimates), the future is very bright indeed for anyone interested in entering this popular medical profession.
What Will I Learn in Surgical Tech Training?
Graduates from accredited surgical tech schools become qualified to work in hospitals, doctor's offices or outpatient surgery centers if the individual so chooses. Regardless of where they are employed, typical responsibilities include:
Prep patients before surgery
Sterilize and stock the operating room and equipment prior to surgeries
Assist doctors and other medical personnel during operations
Transfer patients to and from the operating room
How Much Do Surgical Techs Make?
Surgical technician salary is dependent upon several different factors – not the least of which is the type of facility where the individual is employed. According to recent U.S. Government data, however, the annual median wage for a technician was $39,920 in 2010 (www.bls.gov). This represents one of the highest salaries among allied health careers, and a particularly good wage for a non-degree profession.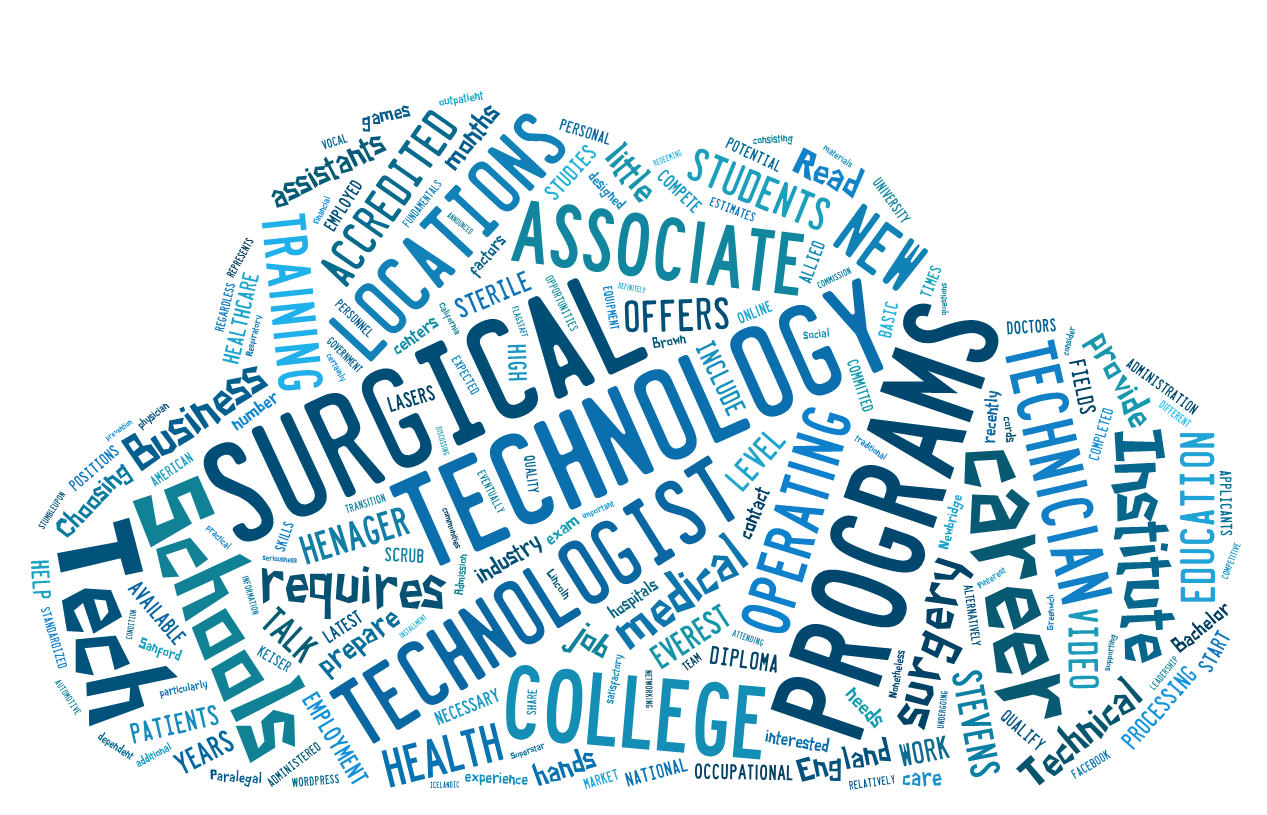 Opportunities for Advancement
While
surgical technology training
provides the basic fundamentals necessary to secure entry-level employment, advancing into a higher-level position requires on-the-job experience and additional education. Nonetheless, many scrub techs do find it relatively easy to eventually transition into careers as surgical assistants, physician assistants or RNs.
Admission Requirements for Surgical Tech Schools
Getting admitted into a surgical tech school usually requires the applicant to have a minimum of a GED or a high school diploma. Some programs will also require potential students to post a satisfactory score on an entrance exam consisting of basic science and math questions. It may also be helpful for applicants to submit other supporting materials (letters of recommendation, etc.) to show their level of interest and commitment in joining the health care industry.
How to Choose Between Programs
Choosing the right school is a largely personal process that, first and foremost, requires the student to have a firm understanding of his or her needs. Knowing how much time you can devote to your schooling, whether you are interested in online classes or attending a traditional on-campus surgical tech program, and being aware of how much tuition you can afford are all important factors to consider. If a surgical technologist program can satisfy all of your personal needs in these areas, then it is certainly worthy of your consideration.
Recommended Surgical Technician Schools
The programs featured below are offered by excellent, accredited surgical tech schools and are recommended as potential options for most students.
As a student at Southeastern College, you will gain the training, skills, and knowledge you need to start a rewarding career in growing occupations such as practical nursing, emergency medical services, medical assisting, massage therapy, and pharmacy technology. Our career-focused programs and flexible class schedules make Southeastern a great choice for busy working adults.
Programs:
AS in Surgical Technology
The Berkeley Advantage®is part of a proven approach to career-focused education that can help students prepare for success.
Programs:
AAS , Surgical Technologist
Certificate , Surgical Processing Tech
Virginia College continues the tradition ofgiving lives new direction, fulfilling our mission statement tostudents wherever they live and offering the chance to pursue adegree while maintaining commitments to work and family.
Take your career to a whole new level with a degree from Everest Institute. Programs available in Accounting, Paralegal, Business Administration and more.
Programs:
Surgical Technologist (Diploma)
Get in, get out, get ahead with Southern Technical College!

At Southern Technical College, our career training programs are designed to help you reach your career goals ? whatever they may be! Southern Technical College is the right place for students who want quality career training in the growing fields of Allied Health, Business, Design, Education, Information Technology, Legal Studies, Nursing and Technical Trades.
Programs:
A.S. - Surgical Technician
For more than 35 years, Keiser University has provided student-centered, career-focused education in fields such as health care, business, criminal justice and information technology. Our one-class-at-a-time schedules allow busy students to focus on their education and balance the demands of work and family. Whether you choose to attend online, on campus, or both you will be part of a caring learning environment led by experienced faculty who bring textbooks to life with real-world challenges and solutions. Our unique combination of a curriculum that is in pace with technology and the skills employers value along with our "students first" approach provides an outstanding academic experience.
Branford Hall Career Institute offers career-focused education that gives you the job skills you need to make the leap into some of today's hottest careers.
In response to the demand of Florida's rapidly growing population, City College is focused on, and committed to, providing the best in business and career education.
Programs:
Surgical Technology
Anesthesia Technology
Harrison College prides itself on truly knowing our students -- their lives and families, obstacles and motivations and their dreams and goals. We also know their potential -- that's why for more than 100 years, our mission has been to provide a supportive environment, with the expectation that their success also benefits their families, friends and communities. That's the Harrison Difference.
Discover the power of ONE COURSE A MONTH® to fit education into your busy life. Brown Mackie College's ONE COURSE A MONTH® schedule lets you focus on your course work one subject at a time.
Programs:
Associate of Science in Surgical Technology